Wednesday lst July,2015   WELSH HEARTS/Calonnau Cymru Defibrillator Training Session.   Our first defibrillator will be situated at Marshfield Village Hall. You are invited to our FIRST TRAINING SESSION which will take place on Wednesday, 1st July, 2015 between  7 and 9 pm. We would like to particularly encourage those who know of someone at risk in the area.  Even if you can only come for some of the time, we are sure that is better than not at all.
Saturday 27th June 2015  1pm- 5.30 pm   Marshfield Village Fete, followed by live band at Marshfield Village Hall, Wellfield Road. Volunteers welcome!  Children's fancy dress parade, dog show, kids races, tug o war, a special appearance from the Star Wars characters, reptile show, rodeo bull, pony rides, bouncy castle and slide, punch & judy, archery, games, craft, bbq, beer tent, tea & cake, raffle, live music from Mid Life Crisis until 6 and loads more. Please do support your Hall and your local community groups.
Tombola donations and volunteers needed (before and on the day even just for an       hour or 2). Call Angie on 07971 256279. Stalls available for local businesses & groups – email kirstie@kemarketing.co.uk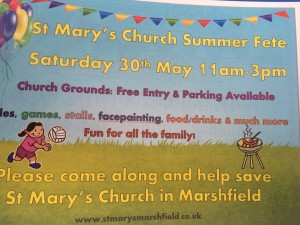 Saturday 30th May, 2015 1 pm – 3pm
St. Mary's Church Summer Fete – fun for all the family!
Saturday 28th June 2014
Marshfield Village Fete, followed by live band at Marshfield Village Hall, Wellfield Road. 1pm – 5.30pm. Volunteers welcome!
Saturday 14th December 2013 at 5.30pm
Village Pantomime – Cinderella – at Marshfield Village Hall.
Performed by Fame Factory Panto Company. Tickets £6 each (2 yrs and under free) – on sale from Nov 1st. Call 0777 5777 913 or email: bookings@marshfieldvillagehall.org.uk
Tickets also available from Angie Sykes, Caroline Antoniou, Kirstie Evans, Suzanne Evans, Alison Ball, Catherine Sainsbury and Amanda Peggie.
Drinks, hotdogs and snacks on sale from 5pm and during the interval.
Entry by ticket only
Saturday 9th November 2013 at 10.30am
Marshfield and Castleton Community Litter Pick being organised by the newly set-up Marshfield Action Group – MAGPIES. Meeting at Marshfield Village Hall.
Please spare an hour to help us keep our villages tidy. Litter picking equipment and refreshments will be provided. All welcome.For more information, call Caroline on 01633 682862 or Heather on 07739 431455.